I know this is LONG overdue. I do have a good excuse. Really. What? You don't believe me?!?! Seriously. I have had about (how long has it been??) two and a half months worth of illness circulating through my household. Stomach bugs, allergies, colds and runny noses have been in full effect. Luckily it seems to have ended. Finally. So I'm back! And, the sad part is, I've been caking it like crazy without ANY time to blog. So this is going to be a lot of "past cake" action again. I'm attempting to catch it all up by the end of the week...so please be patient. :)
Castle Cake! My dear little princess of a 3 year old requested a Cinderella's Castle Cake for her 3rd birthday. I was slightly overwhelmed by the enormity (is this a word...I'm using it anyway) of this project. After mulling over whether or not to make a cake that is decorated to look like a big castle (which involves a lot of stacking of cakes...something I know nothing about yet) or to make a smaller castle topper...I opted for the latter. See, I'm not good at constructing much of anything...I would've failed out of architecture or engineering...so I'm pretty frightened of complex cake construction...at least until I can take a class and have someone with lots 'o' experience show me the light that is stacked cakin' it. Until then...topper it is!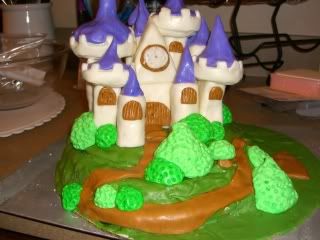 I made the "topper" (it was pretty big for a topper) out of krispie treat and fondant based on an idea I saw by Krazy Kake Bakers on Flickr here: http://www.flickr.com/photos/26449841@N03/2641902525/
I think their cake is AMAZING. Mine turned out the way I wanted it to, but was...ahem...difficult to stabilize...back to the whole difficulty with "construction" thing. I stuck dowels through it in spots and jerry rigged it to work the way I wanted by pasting extra fondant on the back. For a first attempt it went pretty well, but next time I think I will think more about the inner workings of building it before diving into assembly. I propped it up using some non-edible items wrapped in plastic wrap since the cake I made was allergen free (my daughter is allergic to about 7 or 8 random things of which 3 are essential to a sturdy cake). It has fondant decorations and the "dairy free, egg free, wheat free cake" is covered in some mangled fondant. :P I mangled it by forgetting to rewhip my refrigerated, dairy free buttercream. After going back and forth with a friend who is trained in baking I realized much later on (D'oh) that this was most likely what botched my second fondant covering attempt. I also got the idea for my bushes and little trees from a post on Cake Wrecks for a Sunday Sweets segment seen here:
http://cakewrecks.blogspot.com/2009/01/sunday-sweets-cutey-patootey-dragon.html
If you scroll down the to princess/knight and dragon cake you will see where I got the "poke the bush with a paintbrush end" idea. Which, by the way, is brilliant and SUPER DUPER easy!
Luckily my 3rd attempt with fondant was a success! See below...
The photo isn't great as it was 1am when I took it and I didn't think to take one before I covered it in the cake container my sweet mother-in-law brought me to wash and reuse. I also didn't get a pic of the cupcakes before they were devoured. I've been BEGGING my relatives to send me better pics, but alas to no avail. So here's my plea again: PLEASE!!!!!!!!!! Send them to me Puh-leeeeeeeeeeze! Okay. I'm done.
I made 2 cakes and cupcakes for my daughter's party as I figured not everyone likes allergen friendly cardboard tasting cakes
. Well actually it is that my husband is a cake aficionado and would have thrown a fit (well maybe not) if there wasn't real EDIBLE cake...hehe. So I did this Sleeping Beauty Cake. I say Sleeping Beauty Cake because that's where the quote is from. After the time spent doing the castle I was not in any mood to sculpt anything complex and I sort of threw this together last minute since I didn't feel like waiting for 24 cupcakes to bake (I only have one cupcake pan). I torted a one layer cake piece in half and filled in with buttercream. I made my own fondant for both of these projects (marshmallow fondant that I colored myself). I got the recipe off of a site a fellow amateur cake artist sent me...thanks Moni!

I was super happy with the results thanks to using a bunch of kickin' supplies that my husband's aunt sent to me for NOTHING. I was so excited to have all this neat fun stuff for fondant working that I just dove in and had a good time. :) Aunt T. you ROCK!



So if I happen to come across cupcake pictures I'll post them. The little cupcake toppers were made from fondant and royal icing and included swords, shields, frogs, hearts, and tiaras/crowns. They were adorable! I wish I had pics...:(

'Til my next "catch-up" blog!

Blessings!