Okay. So I know Easter Sunday has come and gone. But I'm a pretty traditional Catholic girl and it is technically still the Easter Season sooo although I'm late I'm not overshooting by posting this now...right?!?!? So here it goes.
These cupcakes show some of my firsts...first piping buttercream text without a guide, first fondant flowers, first fondant covered cupcakes. I'm ever amazed at how much better my cupcakes look when I just use a piping bag and a star tip to decorate them. It's seriously the best cupcake secret ever! Shhhh. However I realized I again forgot to rewhip my refrigerated icing...oops. So the icing looks...how shall I put it, dilapidated? Next time I shall not make this mistake. I hope.
Did I mention my daughter has food allergies? Oh yeah...I already did that...well because of those pesky allergies we have a difficult time finding yummy treats for Easter. Soooo I made some! :)
These are krispie treats shaped like eggs and decorated with (a little too neon) fondant. Now I've learned it really does only take a teeny bit of icing color to get the desired effect. Oops. Hehe. At least they are fun! My kiddos LOVE to eat the marshmallow fondant so hence the fondant decorations. I know that this is a huge no-no in some cake decorating circles...ahem. But I needed an option for my daughter and this was perfect! She loved them and they were all gone before Easter Week ended. Now she just snags whatever bits of fondant she can get out of my hands. She's a fondant lover. I guess that's what happens when you can't have chocolate on Easter. I still prefer straight chocolate (dark chocolate if possible) over fondant. But that's me. :)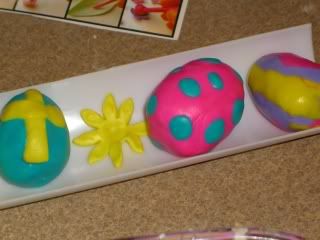 As if I wasn't busy enough I also did an Easter Cake. What better excuse to make cake? It's 1) the celebration of the greatest event in Christian History, 2) the time when I get to eat cake or sweets again, and 3)an opportunity to practice cake decorating. I couldn't resist!
This first photo is of the fondant flowers I worked and worked on for days. The second is of the 3 layer heart-shaped, crumb-coated cake. I did two layers of yellow cake with a chocolate layer sandwiched between them. Buttercream, buttercream galore! I did, however, use boxed cake mixes this time. Well, as you can see from the above pics, I was busy. I have to state that I really prefer scratch cake. It generally has never failed me in the taste department where as this was, eh...so so.
I thought the crumb coated heart cake was so amazing! I've never made a cake this TALL. LOL.
Next I made my mmf (marshmallow fondant)and covered the cake with a little pinching and imperfection action here and there. I covered some of the imperfections with flowers (yay for hiding mistakes!) and allowed myself to be imperfect. Perfectionism is my vice and for once I had to let it go. After all I'm an amateur and this was my...4th? Yes. My 4th attempt with fondant. It was my first attempt at a shaped cake, so I'm supposing it's not bad...considering.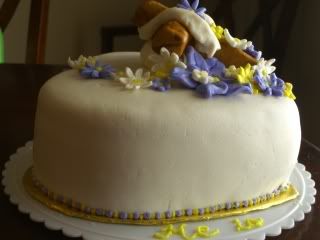 I made the cross from krispie treat (yes I watch too many cake T.V. shows...or I did when we had cable) and covered it in marbled brown fondant. I made it in 3 pieces and used toothpicks to hold it together. I think next time a gumpaste one would be nice. That way it could stand straight up and not sink into the cake. I could've been ingenius and used hidden pillars, but I was too lazy for that. I propped it up with balls of white fondant (also lazy) but I achieved the effect I wanted and it was just for us at home, so nobody cares. :) Unless you do. Please let me know.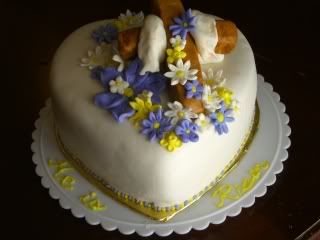 I piped a little buttercream dot border and discovered the bigger the tip the easier it is to pipe a larger dot...duh. My hand hurt after about 10 size 3 tip dots and then I realized...oh maybe I should use a bigger tip. YES. That's the trick. MUCH, much easier with a larger tip.
All in all it has been a GREAT EASTER! Yay for seasonal caking. Happy almost Pentecost.
Blessings!