A Captain America Birthday Cake for my son!
He is sculpted from fondant with some toothpick support in spots. I think sculpting is my favorite part of cake decorating. Although I do get frustrated by the structural elements as I'm definitely not the engineer type!!
His nose/eyes were fun! I learned a technique where you indent into the face with a ball tool and then roll a teeny piece of white fondant to insert into the dent. Then I painted his pupils and used sculpting/smoothing to create his nose.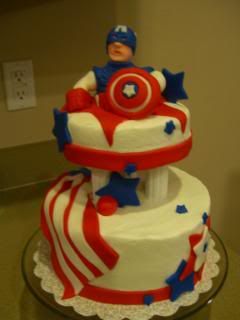 I confess I'm not a great photographer. Hopefully you know this about me by now!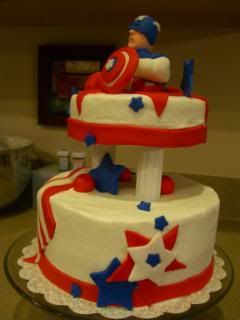 This cake was made allergen-free using an adapted Cybele Pascal recipe for red velvet cake, but I substituted blue instead of red food coloring and I did my own flour blend as I don't have the 11 dollar superfine rice flour she recommends. I ended up doing a confetti type cake for the top tier and did a dairy-free buttercream on the entire cake. All decorations are fondant. I wasn't 100% happy with the result. When I bake allergen free cakes from scratch it always feels like something is missing and I struggle to keep them moist. I still think 1-2-3 Gluten Free and Pamela's Chocolate mix are my favorites. I'm leaning toward oil over shortening too. The oil lends itself to keeping a higher level of moisture. I suppose this will be an ongoing learning process for me. I do enjoy the process!
Blessings!