This cake was for a baby shower I helped plan for a friend having her first girl. We did a "Sugar and Spice...that's what little girls are made of" theme. The colors were pink and green.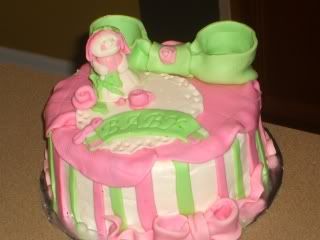 I had originally promised to make this cake simple and then I decided to change my mind. Hehe. WELL...in the midst of attempting a feat beyond my skill...I went back to the original plan for something simple.
Soooo I ended up with an entire 6 inch 4 layer cake in my fridge because I ended up not using it atop my 8 inch cake. Long story short...keep it simple silly. :P It was for the best since about 5 people (for one reason or another) ended up canceling. So there was cake leftover even having an 8 inch. Good thing I changed my mind AGAIN! I also made gingerbread girl cookies for the favors which you can see here in this picture...a little bit...lol!




I did a chocolate/vanilla layered cake torted and filled with buttercream. In the center layer I added mini chocolate chips. It was covered and decorated with buttercream and marshmallow fondant decorations. I love the colors! I ended up changing my design a few times but in the end I was happy with it. I had some trouble with the buttercream...grrrrr. But I'm still learning!

Blessings!