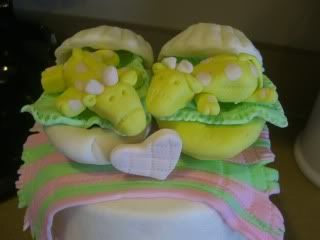 This cake is now my favorite one I've done!!! SOOO much fun!
One of our "extended" family (REALLY close friends)is pregnant with TWIN GIRLS!! She loves giraffes so the shower theme was giraffes. I did this to coordinate with the mom and babies on the invitations (giraffes of course!).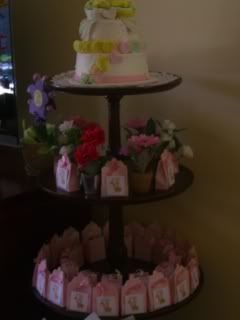 They requested white cake. I did white cake with vanilla buttercream for the cake and all fondant and buttercream decorations/details. The bassinettes are Krispy treats molded into a chocolate dessert shell mold and covered in fondant. Tutorial on that soon to come! I was very diligent and took lots of photos so I could show you how easy it was!!! :)
There are toothpicks in the topper and in the mom giraffe. I was concerned as I had to drive with the cake in my lap for 3 hours :sweating: but it all turned out fine. Here's what it looked like before we left:
I almost left it this way, b/c I LOVE how clean it looks, but we chatted on arrival and I decided to use some of the cupcake toppers to spell out "sweet babies" and then I piped a bunch of details which really gave it an extra special nudge in the right direction.
Here are the cupcake toppers I also made:
The grandma to be...she made the cupcakes and I made the toppers. The strawberry buttercream she made (which I thought would be fun!!) turned out tasty...just a bit of jam in it until it tasted strawberry-ee. I love finding new flavors and ideas!
Thanks for looking! There is nothing more fun for me than sharing this with you...I really love cake decorating and sharing ideas with fellow bloggers truly is the icing on the cake for me!
Blessings!