As promised here is a play by play of my little fondant bassinettes that I used here: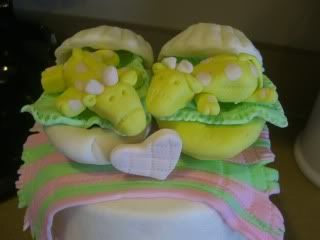 There are a few modifications I would make if I did this a second time...the first being I would use Wilton fondant or fondant/tylose mix (dries faster) instead of just marshmallow fondant. You could do these in all gumpaste if you don't want to use krispy treats...but the fondant giraffes were heavy so I only recommend that if you are leaving your bassinette empty or with just a blanket to decorate it.
First you need to buy one of these chocolate molds from Wilton. It's called "Dessert Shells".
I found mine in Wal-Mart's clearance cake stuff for around $2!!! That was where my inspiration to play came from. Such a steal!
You can find them
here
I had some marshmallow fondant to use up so I started with a ball of white fondant (use any color combo you like)and a WELL GREASED mold. Make sure you use crisco shortening or another fail proof combo to ensure it doesn't stick. It gets greasy, but it's better than starting over.
Then gently press the fondant into the mold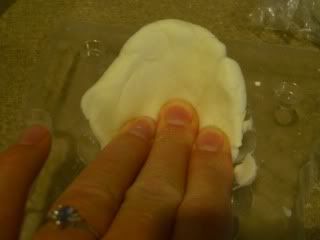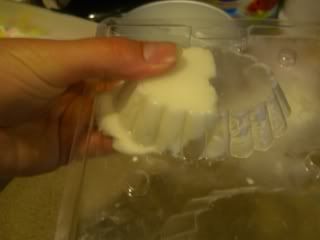 Flip it over and look for any un-filled spots and then press those areas in more. If you have any holes or need more fondant simply take a small piece and press in some more on top. I had to do this and it worked fine. Make sure the fondant covers enough of the shell that you have a little room to cut off a piece to make it even.
Carefully peel the fondant out of the shell. Slowly is the trick...
Flip the mold over and lay the fondant "hood" over it. I used a pizza cutter to get a clean edge.
Then I lifted it (careful) and smoothed the edge with my finger to even out imperfections.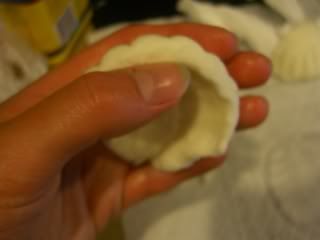 Make a paper towel ring to give your hood a more rounded drying shape. I tucked the paper towel under the wide part of the hood after laying it back onto the shell mold (still upside down).
Use krispy treats pressed into the shells for the base and then cover them with fondant. I did a tuck and press style covering, but you could do something more neat and professional ;)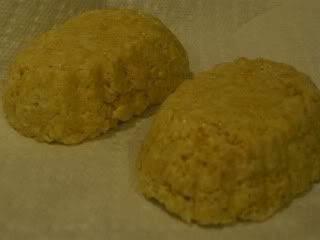 I used toothpicks (snapped into size) to insert them into the base, but a more food safe method (no one ate my bassinette)would be dry spaghetti or (if you are daring...more daring than I!)use royal icing or another icing/glue to adhere. I'd imagine this would make it delicate and more likely to break, but if you did this step last at the location site it would be fine. If it were me I'd bring spaghetti and toothpicks too...just in case!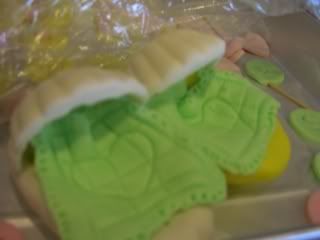 These turned out so CUTE! I was very happy with them and loved that they were sturdy. Thank you krispy treat! I think these could make a great stroller too! You would just need to add some wheels on the side and a handle.
Thanks for sticking with this lengthy tutorial!
Blessings!