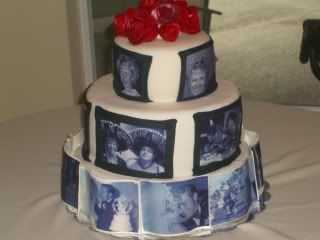 A good friend's in-laws had their 40th Anniversary Party today!!! I was blessed to have the honor of making their cake and this is officially my first attempt at edible images and a 3-tier gem. I must say this was perhaps my most challenging cake endeavor. Many, many, many mistakes were made. I was humbled. However I learned a lot and definitely have gained experience for the next time around!
This couple is such a wonderful example of married love!!! When I asked her what advice she would offer to other married couples she said "Pray. We pray a lot" and "communicate...make time for each other...your own special time". Such a great little bit of wisdom!
Here are some fun "in process" shots. I used Satin Ice fondant for the first time and it was a dream to work with!!! I did however have to go visit my sister to find it. Do you know that there's nowhere to buy it around here? I was soooo frustrated! Shipping 5 lbs of fondant is quite expensive! I'm hoping that with Michael's carrying Duff's new line I can start using that since no one supplies Satin Ice near me...*sigh*.
These are my 2nd attempt at fondant roses. A few turned out exactly the way I wanted. I normally would have colored more fondant and made some more, but I was trying to stick to a budget! They turned out well enough and I thought the luster dust and the burgundy color painted onto the petals gave some dimension.
These are the gumpaste panels I made to hide the bulging in my 12 inch cake. Oh my. I made the huge mistakes on this tier. The one that is most important structurally!!! Yikes. I had to make and remake. But see, that's how you learn, right??!?!? :) First I forgot water in my recipe and didn't realize it until after it had baked...then I remade it and had a lovely set up but my icing dam was infiltrated by the jam I first tried using as filling. Then lastly I realized that the reason my dam broke was too much milk in my icing. *SIGH* Soooo after 2 re-bakes of the 12 inch I settled on the fact that there was no going back and made these panels to strategically place along the 12 inch to hide bulging and imperfections. The show must go on!!!
Here's the "interior" of the 10 inch cake. The cake was white cake with raspberry buttercream and vanilla fondant. There was a 12, a 10 and a 6 inch. The 12 will probably give me nightmares for a while.
Isn't this pretty!!! I've never had one sit so nice and tall and clean before. Of course it's not perfect (cake structure is not my strong suit) but definitely the best tiered fondant work I've had so far.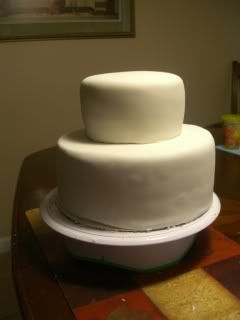 So as I said before, this was a huge learning curve for me; but I feel more confident in my 3 tier abilities. Really I didn't have as difficult a time with the tiers as I did with the 12 inch all thanks to my silly mistake of doubling the milk in my icing recipe (probably because I was making triple the amount I usually do and just didn't realize I had used the wrong number when I did the math).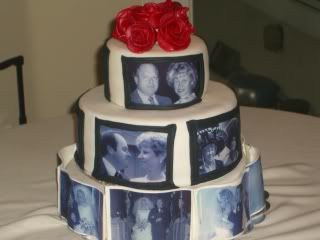 Oh well! I'm so glad it turned out well in the end! Thank goodness for gumpaste!
Blessings!!