Yesterday was the feast of Our Blessed Mother's Nativity! Her birthday-day...so to speak! To celebrate with my kids we made donut muffin/cupcakes...allergen free taken again from the brilliant Cybele Pascal's website. The recipe is FABULOUS and I highly recommend ANY recipe by this talented baker. We used a dairy-free shortening based buttercream and these taste like cinnamon sugar donuts with buttercream on top...very tasty! I just used Bob's Redmill brown rice flour so mine are crumbly compared to what you might get with Cybele's recipes. I recommend doing it exactly as she says if you are picky. :)
The raised up cupcake represents Mary with 12 stars to represent her crown of 12 stars as laid out in Revelation. The unfrosted cupcake under it represents the moon under her feet and the blue is for her traditional color. Each cupcake has the symbol iced in white...white representing purity and holiness.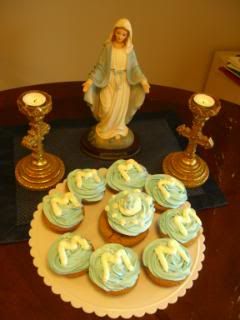 The Marian symbol was used on each cupcake.
I used a 1M tip to do the base icing and 12 tip to pipe the M with a tiny, tiny #1 tip to pipe the crosses. The stars can be done with any star tip, but I picked a small one maybe a 14 or 15...I don't quite remember! :)
Happy Feasting! :)