My firstborn baby is turning FIVE tomorrow. I really just can't believe it has been 5 years since I held her for the first time. This also marks 2 years of some serious cake decorating! I started this blog in Spring of 2009 so it has been an incredible ride since her 3rd birthday! I was telling a friend that I have probably made more cakes in these past 2 years than I have in the whole of my life!! Crazy huh?!??
Here's a preview of her cake decoration: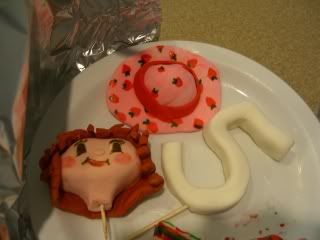 And I'm excited to say that I found an even better Cake Mix for gluten free baking...1-2-3 Gluten Free!
It makes 2x as much cake with only one box and for the same price as one of the other boxes which only made one layer at a time. Did I just confuse you?? Long and short---more cake at once...less moolah. Woohoo! I have found the Betty Crocker GF cake mixes to make a pretty dry hard vanilla cake, so I'm excited to have a new test of this brand. It says it is an award-winning mix! I'm excited to report on its taste when I blog about her party and Berry-Sweet cake!
:)
Til then!
Blessings!