My hubby has recently acquired an Iphone. I must say it is quite a device. I'm not really tech savvy, but he has been having a blast with it. I discovered Angry Birds shortly thereafter and it. is. addictive. My hubby isn't really INTO Angry Birds, but after our team didn't make it all the way for the Stanley Cup Finals...a hockey cake wasn't on the menu. He suggested this and I thought it would be a blast!
I spent a lot of time making all the little pieces and had a difficult time getting that bottom cake to behave, but all in all it went well! I used hidden pillars wrapped in fondant to hold up the 6 inch cake and there are some supports that are not edible, but otherwise everything is fondant and buttercream. Hubby always requests cotton candy buttercream so we have a white cake with cotton candy buttercream. This was a lot of work, but also a lot of fun! I was sad to cut it up and store it, but it fits the theme too, right?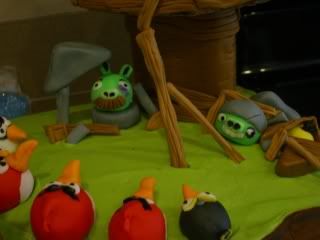 Destruction and mayhem abound! :)
Blessings!