Sorry no picture! I mean...I have pictures...but it's more a pic of what it looked like before it was wrecked and what it looked like after I fixed the wreckage.
So I mentioned before that I was making...or rather made this Gators Gradution cake for my brother who graduated law school from UF. Well it was lovely! I was so pleased to have achieved the effect I wanted and it was a success (I mean some minor flaws/stripe spacing issues with my fondant but nothing the average non baker/decorator would notice).
So here it is before the...uh...incident:
It is a little unfinished as I was waiting to do the gator eyes/border until the day of the event. HOWEVER I loved how clean the white mint fondant looks. Yes folk, mint fondant...you read right. MINT. I did some fancy schmancy stuff with this cake for my little brother. It was a chocolate mud cake with a chocolate mint cookie fudge filling (say that five times fast) and covered in buttercream then mint fondant. The top layer was the same but with a buttercream filling. Mmmmmm. It was yummy! I did a little plaque out of fondant that said 2009 and a banner with his name and his new title across the top layer. Everything is made from fondant with a bit of royal icing and a buttercream border which you'll see in the second pic.
Sooo I had the cake like in the above pic all ready to go and had even done the eyes and added a few last minute touches when...KABLAMO...my son sticks his 5 fingers (maybe somehow 7 fingers) into the side of the cake and CRACK there is this gaping gash in my poor Gators Graduation Cake. AHHHHHHHHHHHHHHH. Nightmare.
I didn't have time to remake the cake as we were driving to the graduation that morning and I was planning on finishing the border upon arrival. We had to leave the cake at my brother's apartment so it wouldn't sit out in the heat of the car during the graduation. So I cried. And then cried some more. And then I sucked it up...resisted the urge to punish my son for my mistake (I left the cake too close to the edge of the table); and fixed it.
After I fixed it (the gash and the other pokes which I'm assuming he did after jabbing it), it looked like this: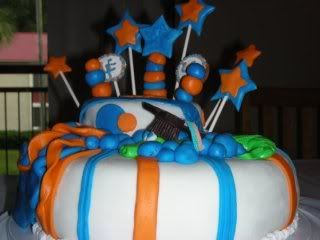 I made a fondant "drape" and fondant "ribbons" in blue/orange fondant that (THANK THE GOOD LORD) I had leftover. I also redid a few stripes to hide some other pushed areas and added some bubbles/water from the gator down the drape to make it appear to have been intended. Hehe. Sooo I'm not a professional and I'm by no means recommending anyone does this if they are selling a cake. I only did it b/c it was for my brother and family and friends. They don't care. I told them...they still devoured it.
All in all I think I managed to fix the wreckiness...lol. I preferred the clean white look of the first pic, but I'm just glad I was able to salvage it after the...dunn dun dun...incident.
Blessings!