I've actually never been one to jump at going to the beach. Never. Probably b/c I've always hated the ritual of bathing suit buying and wearing. I mean no one needs to view the parts of my body that I generally work hard at hiding...seriously. BUT we take a family vacation every year over Memorial Weekend to a beach resort and this year I figured...eh...let's make a CAKE! This made the whole beachy thing much more fun for me. :)
That and, well, I have kids. So I'm bound (of course) to end up in a swimsuit, chasing them around and sitting in sand, while the whole time trying desperately to ignore the fact that everyone can see my legs. Oh well.
Here's the cake I made: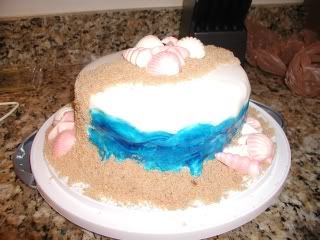 The photo is not so hot, but I'm lucky to have one at all so...thanks DAD! And I did preface this whole blogging experience with the words "I stink at photography"...or something to that effect. So get used to it! :)
The cake was the smallest I've made (all I have are huge 10 inch rounds...well I do have an 8 inch heart shaped one...but how often do you have an excuse to make a heart shaped cake??). I used my mom's pans and we worked together to bake it. It's vanilla with vanilla buttercream. Covered in Marshmallow Fondant with white chocolate shells and food coloring painted onto the side of the cake. I used a mix of brown sugar and turbinado sugar for the sand. It was thrown together pretty last minute and was the fastest I've ever decorated a cake...phew. Pretty neat effect considering I had none of my tools and used whatever I could find in mom's kitchen! Thanks mom!
All in all (in spite of the heat) the cake was a success! I was touched by the sweet comments my friends at the beach made about this cake. I seriously almost cried when a few of them told me it was the best cake they'd ever eaten. Maybe I would have been more proud if it had been my recipe...lol.
Well thanks for looking!
Blessings and Happy Feast of Pentecost!