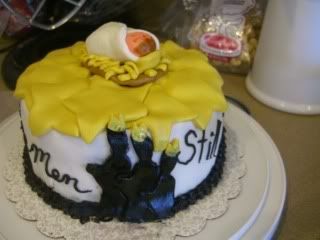 I made this cake last night at
midnight. Yes. I know what you are thinking. She's nuts. I'm sure most of us cake ladies and gents are often up into the wee hours finishing our cakes. Or...maybe it's just those of us with little ones at our ankles! Either way I really wanted to take a cake to the Epiphany Party our Catholic Families Group is having today sooooo I made two cakes for the same weekend. Yes there was another one too...pictures of that cake will be posted next time! Sooo stay tuned. ;)

The best part of this cake is the before and after. Here take a look...you can see how working on a cake at 1 or 2 in the morning can impair your ability to make good design choices!

BEFORE: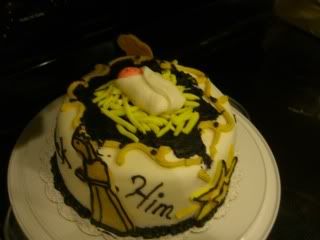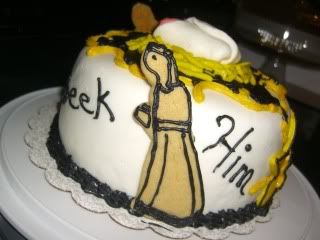 AFTER:



Thank goodness my husband doesn't mind telling me the truth. Otherwise...I would have just left it and said "eh" and "I'm too tired to care about changing it" but his loving question of "what does the black under Jesus represent?" and my realization that is was an attempt to fix a failed design....left me no choice but to try and work some "fix-it" magic. Soooo this isn't a perfect cake...NOPE. But I like it better after the fix. AND I enjoyed the practice piping on the before version so I guess you could say it's a win-win!

The cake is Red Velvet with vanilla buttercream and Marshmallow Fondant decorations and buttercream piping.

Tomorrow is the last day of Christmas for us Catholics! I'm going to enjoy today's Epiphany Party and Feast well! Enjoy your weekend!

Blessings!