Yes Merry Christmas still! I'm Catholic and we party like it's Christmas until, well it's not Christmas anymore!!! :) We celebrate Christmas for an Octave (8 days) and then the Christmas Season lasts (liturgically) until our Feast of the Baptism of Christ...soooo Merry Christmas!
Here's a cake I made for a Christmas Party:
It was chocolate cake with chocolate buttercream and decorated with marshmallow fondant.
I had the hardest time deciding what to do, but decided to keep it simple! I embossed the cross and the navy blue border with a circle cutter since the circle symbolizes eternity.
I also made a New Year Cake at the request of my daughter. She gave me instructions that it should be black and white with flowers, balloons, sprinkles and a clock. Although it didn't turn out exactly the way she asked (no room for balloons!!) it was still a decent attempt at meeting her expectations!!! Also ALL BUTTERCREAM! Always a good opportunity for me to practice my flawed piping!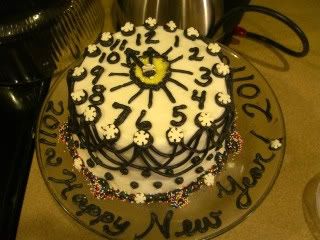 I did some piped borders and dots and all in black buttercream. The clock is piped on and I used some colored sugar sprinkles to give it a bit of contrast. The little white snowflake sprinkles are supposed to help meet the "flower" requirement.
It was a chocolate dairy-free, egg-free, gluten-free cake with dairy free vanilla buttercream. The kids loved it! :)
Here's a pic of hubby and I on New Years Eve!
Many Blessings to you and yours in 2011!!!