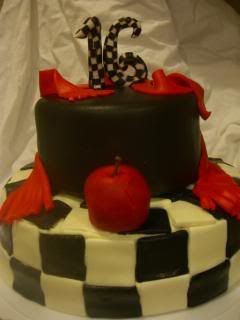 I made this cake for a neighbor's 16th birthday. I had never read these books at all, but knew from the neighbors that she like it. I used a cream cheese frosting recipe that was a bit soft so there was some buckling with my squares. But overall I like the way it turned out. I suppose I need to be humbled with some small thing each time I make a cake. I know that the knowledge helps me feel more confident the next time I attempt another cake!! :)
I shaped these numbers from gumpaste and then painted the checkered pattern on with food coloring mixed in vanilla. I didn't have vodka soooo ya know...sometimes you've just got to use what you have in the pantry! There was some slight bleeding in the color because of it, but I was too cheap to go out and buy a food color pen! One day I will get some and go crazy! They look like fun!
The apple is fondant with a real apple stem that I washed and stuck in. I also painted the apple with some burgundy food color to keep it from looking too fake.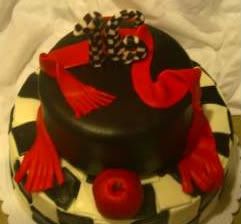 The top tier was a breeze (no cream cheese icing!) and was vanilla with vanilla buttercream and marshmallow fondant. The bottom tier is red velvet with cream cheese buttercream and marshmallow fondant. All accents are fondant and gumpaste.
And on a completely unrelated note...
Happy St. Patrick's Day!