"I will let fall a shower of roses. I will spend my heaven, doing good on earth."
-St. Therese of Lisieux
My husband and I have a special devotion to St. Therese and we recently finished a novena to her for intercession for a special need. My husband had mentioned wanting to see roses as a sign of our prayers being heard and I started thinking roses...watched a tutorial and then made this cake. I hope you like it! It's certainly not perfect but I was SO excited my fondant non-ribbon roses came out well. I threw in a few ribbon roses too, just because I like them.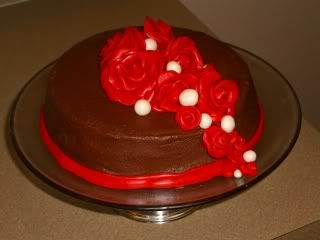 It's a chocolate cake with a chocolate butter cream frosting and all fondant decorations.
It's in honor of St. Therese and in thanksgiving for her intercession and all the blessings the good Lord has showered on my family.
Blessings to you!