Happy Independence Day!!! As a way to say Happy 4th to all you wonderful bloggers, here's a stars and stripes cake to help you celebrate!!!
Of course...you can't eat it. But it is all the right colors and symbols....even if you can't dig your teeth into it's vanilla-y goodness.


The intent to wish you a Happy 4th of July is still there!

I took a few pics of the process of making the stars...


I cut out the corner first.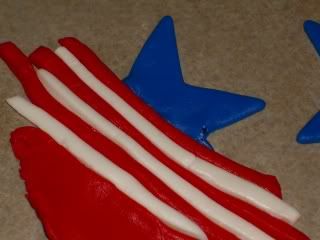 Lined up stripes I cut using a pizza cutter.


Then lined up my star cutter on top of the whole thing and cut it out.


I put some water on a white star and (using a spatula) transferred the flag shaped star onto the white star. Then I cut it out with a knife into a little bit of a larger star. The end result is neat!


I was so happy with this design!


My hubby is such a huge fan of our great country...and oh so PATRIOTIC...I mean our house looks like we should be having a party for Independence Day. We aren't. But at least there is cake! He's happy about that.

A lovely Independence Day to all my American Comrades and a blessed day to all!