More of the past cakes...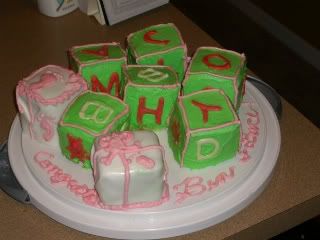 This one is a Baby Shower Cake I made (voluntarily) for a friend's shower. She had a girl and the colors were the main focus (pink and green). I thought it turned out OK. It was my first try and covering a small cake in fondant. I didn't even attempt to get it perfect and did it giftwrap style...hehe. I'm hoping to try covering a whole cake in fondant soon. I made the decorations out of Royal Icing I piped ahead of time. This was also my first try with Royal Icing.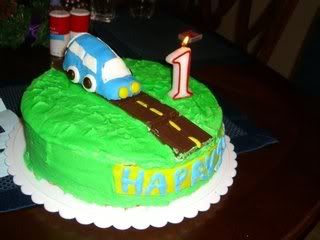 This is my son's first birthday cake. I had sooo much fun doing it! That's what matters right? Not that it's sloppy in places...sometimes I think if I had better tools it would turn out better. This was my first attempt using fondant decorations and sculpting rice crispie treats. I made the car out of krispie treat and then covered it with dyed fondant. I used little candies for the wheel centers. I had a smaller amount of fondant than I needed so I ended up just making all the decorations out of 3 colors. I used chocolate bars for the road and royal icing piping on the road. I used fondant to sculpt the lettering on the side of the cake.

Hopefully I'll have a Valentine's Day Cake made soon! That should be my next post!
'Til Then: Baking and Loving the Lord,
Cakedreamer