Happy Easter...Season.
:)
We celebrate Easter Sunday for 8 days (the octave) and then the Easter Season for 50 days. Sooo it's still Easter time for us. I know this a bit late for most of you, but you will have to indulge me as I've been out of town and only just got back to post pics.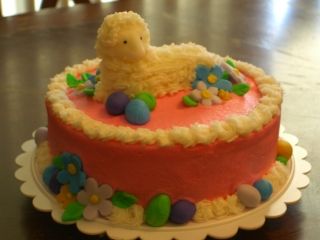 This is an allergen-free chocolate cake with dairy-free butter cream and fondant decorations. It's a tiny thing only a single layer and 6 inches. The lamb is molded in fondant and then I piped the furry part on and painted the eyes. The kids made the eggs and flowers (such great little assistants) and I did the rest. I had it blessed at the Blessing of the Food Liturgy at our church. I really enjoyed making baskets and taking them to be blessed...next year I need to remember to take a pic of the baskets...I forgot to do that this year!
Blessings!
"Do not abandon yourselves to despair.We are the Easter people and hallelujah is our song." Pope John Paul II