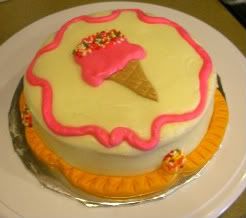 So there isn't actually ice cream in this cake. Just a chocolate cake with vanilla buttercream and fondant decorations. I over thinned the icing so it didn't do well in the hot sun, but since it was a donation to my church's carnival I didn't let it bug me too much.
It was fun! I loved using the sprinkles.
I also took a family vacation to Disney this month so I wanted to share some cupcakes the kids requested me to do before our trip.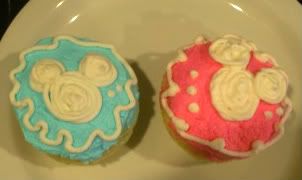 These were gluten free/dairy free/egg free and turned out better than usual. I made some chocolate ones from scratch just last week and they were the best yet. I think Gluten Free baking just takes a lot of practice. I'm almost there! :)
Here's the cupcake sandwich I made for my daughter when she requested more icing.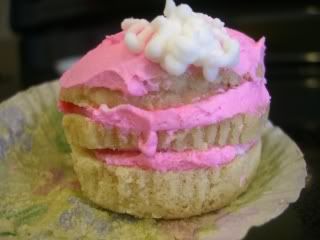 Fun stuff! I'm sure I paid for all that sugar later on...oh well!
Blessings!