I made this cake to enter in the Creative Cakes Competition. I'm hoping to win something! :)
Either way I had fun learning to carve freehand!! I carved all of this from a cake I had frozen that I didn't use for my "Wedding Birthday Cake". I carved the halved egg, whole egg, and dragon's torso from it and used mini cupcakes to make his neck which I glued onto his torso with buttercream. It was easier than I expected!! I have always been a little scared to lunge at cake with a knife, but it is not as scary as I thought and produced some great results!
The cake was a layer of vanilla and a layer of chocolate with buttercream and decorated entirely in marshmallow fondant and buttercream foliage. The toadstools are mini cupcakes stuck together.
I freehand sculpted his head (UGH this is can be so frustrating!) and made a party hat out of fondant too. I stuck his head in with a toothpick. Maybe not so sturdy in the long run, but for a quick pic and a cake that's going to be cut apart minutes later...it didn't matter much. lol.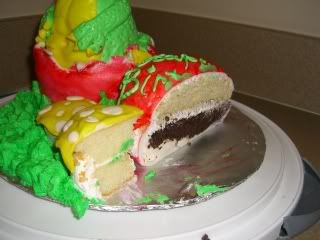 He has a tail which you can't see in the first pic! I wish I could get a great pic and show everything, but alas it is not always possible!!!!
Hope you like it!!!!
Blessings!