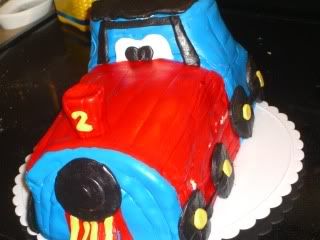 Happy Birthday to my little man! I cannot believe it has been two years this week!!!! He was born on the first Sunday of Advent so we are celebrating tomorrow...even though his birthday is not until Wednesday.
I made him this "Choo-choo" cake. He, as all little boys do; loves trains, planes and helicopters.
This cake was made all in one day so the fondant was a bit rough to work with hence a little bit of trouble here and there. I am overall happy with it although if it was for someone else I would have piped little royal icing dots over all the "seams" and hidden some of the fondant flaws. Given the holiday weekend...all of the shopping and having family in town...that didn't happen. Sooo I'm leaving him (the train) as is and remembering that my beloved 2 year old son will love his cake even with all its little flaws!
Advent Blessings!