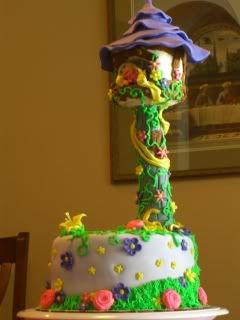 My sweet 6-year-old requested a "Tangled" Cake for her birthday and I was a bit overwhelmed. Honestly this cake was supposed to have Flynn on it and be much more "accurate" in appearance to the actual Disney movie...but I was not really up for that much work. THEREFORE...this is my interpretation of Rapunzel/Tangled.
The cake is an 8 inch, 3-layer cake. Allergen-Free AKA DF/GF/Nut Free amongst other things and has a dairy-free butter cream and a dairy-free chocolate butter cream filling. The decorations are all fondant, butter cream and DF krispy treat. The only inedible items are supports for the tower and Rapunzel.
The kids cut out most of the flowers and my birthday girl helped pipe flower centers. My own assistant cake decorators! :) I shaped the hair into a "6"...see above for the closeup shot...and used some of the Lustre Dust to make the hair and the Lily sparkly...sort of...I'm not sure how obvious it is!
To make the tower I used hidden pillars taped together and stuck a 12 inch support inside of them. I covered it in foil and butter creamed the sides before applying fondant and adding detail. The house part of the tower is all krispy treat hand shaped and then covered in fondant. I cut out a piece for Rapunzel.
PHEW. Lots of work...but her smile made it worth it! :)