I ALMOST didn't make a cake.
And then I did.
This is my first time trying a recipe from Cybele Pascal's book "The Allergen-Free Baker's Handbook".
I didn't have the same Gluten-Free flours, but I used what I had and was happy with the amount and overall look of my cake layers. We will try a bite later today and hopefully it tastes as good as it looks!
I wanted to try a chocolate icing instead of the usual white/red/blue for the base. So many designs look washed out or too bright...I *think* it works pretty well. I had hoped for a darker chocolate but alas...not enough cocoa powder. It was a happy accident that it works well.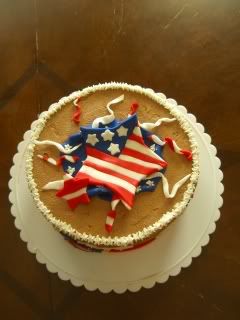 I hope your 4th of July is blessed!!!