This cake was soooo fun but also quite the ordeal!!! I normally don't drive cakes over an hour a way, but for my oldest friend I decided it was definitely worth it! She asked for a Noles/Gators cake for her Brother-in-Law who was getting married. This was their rehearsal dinner cake!
Here's a close up of those time consuming gumpaste figures:
Check out the cute pics she sent me of the happy couple with the cake!
And look...no rivalry here! :)
Despite some of the drama I had with my car keeping me stuck at my sister's for a day and at my parents for another 2 days...it went smoothly...looooooong story!!!
Here are some other pics because they are just too fun to miss out on:
That's me. HI! Putting finishing touches on this cake at the site of the Rehearsal. Luckily the only thing that fell off the cake was 2 fondant balls and the "united" sign. Easily fixed! I had to pipe all the grass and fix those pieces...plus pipe all the details on the fondant footballs.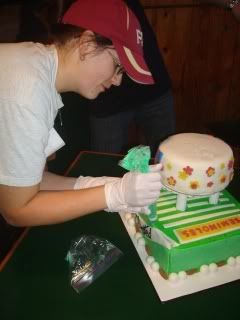 Also there were these babies:
Lots and lots of work!! I'm so glad I got the experience of doing a cake this large and of traveling with it. Lessons learned are definitely always worth the trials we endure to learn them. I'm soooo thankful for all of my answered prayers along the way and for the "cake angels" I'm certain were with me on the way there! Otherwise my car would have failed on me before the delivery. God is good.
And last but not least here I am with my oldest friend...we go waaaaaaaay back.
First the throwback pic...no laughing:
And here we are with the cake this weekend: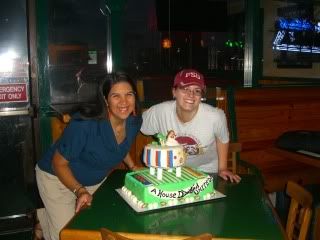 Love you girl!!!! Thanks for making me a part of Corey and Sarah's special day!
Blessings!