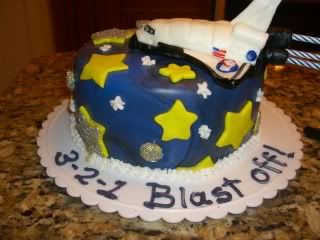 My son will be 3 this week!!!! Wow! Never doubt that babies grow up fast because they sure do!
He requested a Space Shuttle/space cake and I came up with this design after viewing bunches of cakes online. I had wanted to go all out, but we traveled for Thanksgiving and had our family party at my parents' home.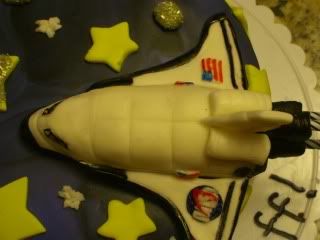 The shuttle is gluten free/dairy free cocoa krispy treat covered in marshmallow fondant with fondant and painted fondant detailing. There are toothpicks used in it's construction, but otherwise edible.
The cake was (it's all eaten up now!) gluten-free, dairy-free, egg-free, dark chocolate cake (I used Pamela's mix---2 of them---with the egg-free recipe) with vanilla buttercream and marshmallow fondant. Buttercream border and buttercream white stars. I coated some of the stars in cupcake gems I found at our grocery store using brown rice syrup on them and them just rolling or pressing them into the sprinkles.
Even those wary of allergen free baked goods said this cake was tasty. Fudgy and you'd never know it was gluten/dairy/egg free! Great moisture, great flavor! Thank you Pamela! I think I like oils in dairy free cake baking better than butter flavor crisco...but for cookies it is definitely better. Just my 2 cents!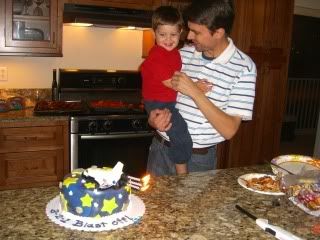 All lit up! ALL SMILES :)
I have a few new projects coming up and an old cake pic I'll share now too...
This was a gluten-free/dairy-free/egg-free chocolate/chocolate buttercream cake with marshmallow decorations and a plastic St. Michael. It's the old "Devil's Food cake" with St. Michael conquering it!! :) The kids loved it. There were 3 candles one for each of the archangels.
Advent Blessings!